back to the overview
From patient to patient – how breast cancer patients can be better helped
Dr. Maria Margarete Karsten is a gynecologist and a female breast specialist. She is the Managing Senior Physician at the Breast Center of the Charité-Universitätsmedizin Berlin. Parallel to her clinical work, she's funded by the Charité Foundation as a BIH Clinical Fellow and is using this opportunity to bring about lasting improvements in the treatment, aftercare and structural care of breast cancer patients. For that purpose, she has developed patient-assessed quality criteria, so-called "Patient Reported Outcomes" (PROs), and introduced these for her breast cancer patients at the Charité. In our talk, she explained what exactly PROs are, why digital technologies are important here too and why one should take the bull by the horns more often in life.
Dr. Karsten, what in fact are "PROs"?
PROs or PROMs ("Patient Reported Outcome Measurements") are something everyone's talking about nowadays. I first came across them when I was in the USA during the 90s. The special and important thing about them is that they give us patients' perspectives on their disease and their treatment. As doctors, we naturally recommend the therapy that, in our view, is most suitable for an individual patient. For example, in my daily practice with breast cancer patients, I recommend either breast conservation or a mastectomy and give the patient a prognosis as to how she'll feel afterwards. But is that how the patient will actually feel later on? Is our medical estimation the same as that of the patient? What we as doctors perceive can definitely differ from what patients perceive. This doesn't mean that the doctors and colleagues aren't working with sufficient precision, but that in our daily practice we overlook things that play a role in the patient's perception. Often, you simply don't have the time to ask very detailed questions about the condition of the patient. This is where the PROs come into play. They help you get an accurate picture from the patient's viewpoint. How are survival and recovery assessed? This enables me to draw conclusions as to whether a certain therapy really is best for this patient or for this patient group. I can thus get an assessment of the therapy from the PROs. This is an important issue, particularly in oncology or with chronic diseases. Thanks to medical progress and the therapies at our disposal, patients are surviving longer. But is that survival still qualitatively worthwhile for the patient? We can't assess that medically. PROs are able to do that and can objectify the assessment. They create a database that helps patents to be better informed and advised.
Do the PROs also influence whether patients will decide for or against a certain medically recommended therapy – specifically in the case of patients with breast cancer?
The PROs are particularly important in the case of diseases like the breast carcinoma, which have a good chance of recovery. We have a large number of young patients who should still be able to live with the effects of this disease for decades. For example, a patient is informed by the doctor that chemotherapy will increase their probability of survival by 8 percent. But what exactly does that abstract number mean? What does it mean in the long term? It's difficult to grasp. Yet the patient has to make a decision based on our recommendation. I think that's unfair. The patients need a lot more information. What will that chemotherapy mean for me, for my job, for my family planning, etc.?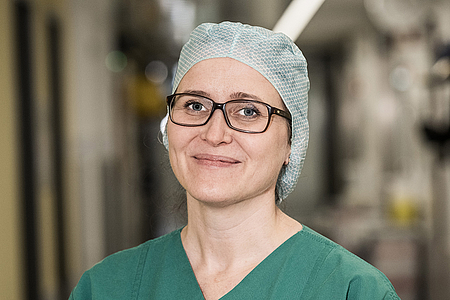 Funding program
BIH Clinical Fellows
Funding period
2018 – 2021
Project title
PRO B - Patient reported outcome measurements in the treatment of breast cancer patients at the Charité
Research area
Gynecology, oncology
Institution
Charité – Universitätsmedizin Berlin
Since 2019
Managing Senior Physician for Senology, Clinic for Gynecology , Charité – Universitätsmedizin Berlin
Since 2016
Senior Physician for Gynecology, Charité – Universitätsmedizin Berlin Charité – Universitätsmedizin Berlin
2013 – 2016
Specialist in Gynecology and Obstetrics, Clinic of Ludwig Maximilians University, Munich
2014 – 2015
Fellow for Breast Surgery of the Society of Surgical Oncology (SSO) at the Memorial Sloan Kettering Cancer Center Department of Surgery in New York City, USA
PROs are a great help here. I can use them to tell the patient how other patients in a certain group are doing one, two or five years after the chemotherapy. In addition, I can relieve the patient's fears with the help of PROs. If you know what lies ahead in the course of your treatment, then you'll have demonstrably less fear of it.
Can you give an example of such fears and accompanying symptoms?
Let's take sleeping disorders as an example. Some patients are surprised when, a few months after finishing the therapy, they suddenly start sleeping badly. They feel insecure. Maybe they go to the doctor, maybe they don't. With the help of PROs, I can give a patient relevant information and experiences to guide them on their path, even before any feelings of insecurity arise. If I can show the patient that it's highly typical for women of their age with their disease to have problems sleeping about 5 months after finishing the therapy, that's helpful for them. PROs help the patient to cope better with the disease, with their symptoms and with the effects of the disease. This is what we want to show in our project.
The BIH Clinical Fellowship gives you protected times to enable you to focus on this important topic. Can you describe your daily routine, between the clinic and the project?
Actually, as a senior physician, I'm fully involved in the clinical work and patient care. I carry out operations, hold consultation hours, do the round of patients, supervise my doctoral students, document procedures, write e-mails, etc. It would have been impossible to push ahead with the PRO project in addition to all that.
Thanks to the funding from the Charité Foundation, I'm able to arrange my week differently. I have 2.5 clinical days and on the remaining days I take care of our project as a Clinical Fellow. I also talk about it with many colleagues, both internal and external. I'm concerned with planning forward-looking structures, keeping an eye on the coordination with numerous actors and seeking, finding and establishing digital solutions for us – of course, this all happens through teamwork.
Why are digital solutions in this project so important and what challenges do you face in the process?
To put it in comprehensive terms, we need to implement a system that lightens the clinicians' workload by means of intelligent IT solutions, reduces documentation expense and presents complex facts in a way that can be rapidly grasped in visual terms, while at the same time collecting a sufficient quantity of data for valid comparisons of therapies to be made.
Can you give us an idea of what the specific digital solutions in your project are like?
We begin by already conducting the anamnesis digitally. Our patients fill in the medical history questionnaire on a tablet in the waiting room. I get the results directly on my screen, even before the patient comes in. If the patient agrees to take part in the PRO survey, they later automatically receive an e-mail containing a link to the PRO questionnaire at fixed intervals. Before the patient visits me the next time, for example after an operation, I already have her answers about how she's feeling. In a conversation with her, I can directly address potentially critical points and discuss the next steps.
Are there any limitations in the follow-up and documentation?
One challenge is that the aftercare often doesn't take place at our clinic, but at the individual practices of colleagues. The process of making the PRO data available and useful for them, efficiently and in conformity with data protection, is currently still an enormous amount of work. However, this isn't a medical, but an organizational and legal matter. We also engage in intensive exchange with other German clinics. In addition, we're trying to improve aftercare regarding the specific needs of the individual patients and referrals to specialists with relevant expertise, for instance for problems like fatigue or neuropathies, in a subproject.
You studied medicine via a circuitous route and have already had to overcome a few challenges in your professional career. What would be your advice for younger physicians in light of your own experiences?
Eleanor Roosevelt said: "Nothing has ever been achieved by the person who says, 'It can't be done'." I never thought I'd ever get to where I am now. I always wanted to be a doctor but was told I'd never be able to study medicine because I didn't do a normal school leaving exam. So, I initially studied health education. Later on, I was able to fulfil my dream and study medicine. After that, I applied to a very well-known laboratory in Munich and to the Memorial Sloan Kettering Cancer Center in New York in the USA. Each time, other people said those institutions wouldn't accept me with my atypical CV. Yet I got those jobs. You have to take the bull by the horns and simply have a go. If you don't try, then the only thing you'll know for certain is that you're not going to get it. That's always been my attitude. Not every application I write will be approved. But one must at least try.
Finally, would you tell us which three people, living or dead, you'd like to have an imaginary dinner with?
Ruth Bader Ginsburg, Bill Gates and Eleanor Roosevelt.
June 2020 / Marie Hoffmann