back to the overview
For yourself and others
The pandemic has been in full swing for almost a year when we met Sina Shams, a 9th semester student of human medicine Charité – Universitätsmedizin Berlin, for a virtual interview. Shams receives funding from the Charité Foundation as a scholarship holder of the Deutschlandstipendium.
Sina Shams is sitting at home in front of his laptop, like so many of us these days. His medical studies at the Charité have been switched to online teaching wherever possible. Being unable to sit in the lecture room with his fellow students, but instead having to watch all the lectures alone on his computer, was a big adjustment for him at first, as it was for very many other students. However, he quickly came around to the idea of online seminars and the other changes in teaching brought about by the pandemic.
"The teaching does not suffer from the pandemic. In some cases, I even find the online formats better than the face-to-face ones. For example, I find the patient courses on the ward, which are now organised on a whole-day basis with a fixed point of contact for the student group, much better than before the pandemic."
What suffers most, however, is social life. Most of the time is spent alone: no campus life together, no studying together for the exams, no encounters with new people. Against all odds, however, Shams still finds himself in good spirits. The pandemic has not made him fall behind in his studies and he has his sights firmly set on his goal of becoming a gynaecology and obstetrics specialist.
"In gynaecology and obstetrics, we care for a whole range of conditions from birth until the end of life."
Chance and an impressive internship shadowing a dedicated resident physician led him to this specialty. He is now writing his doctoral thesis under Dr Maria Margarete Karsten (herself a Charité Foundation grantee; click here for an interview with her), a breast cancer specialist at the Charité Breast Center. The new tracer he investigated for detecting potentially malignant lymph nodes in breast cancer patients is now used in the clinical routine at Campus Mitte. The fact that he has already been successful in bringing about a real improvement for patients with his scientific work is a great incentive for him.
"Education is very important in Iran. My parents always found it very important to convey to me that you should seize every opportunity that comes your way. That drives me inside."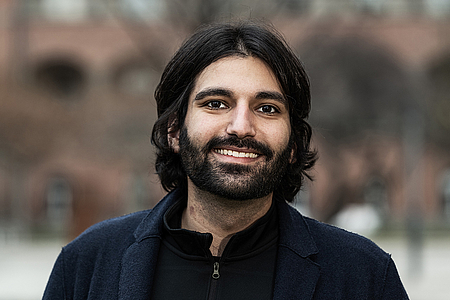 Funding Program
Deutschlandstipendium
Funding period
Since 2020
Research area
Human medicine
Institution
Charité – Universitätsmedizin Berlin
Since 2016
Medical studies at Charité – Universitätsmedizin Berlin
Since 2019
Doctoral student in the Karsten-Speiser working group at the Gynaecology Clinic, Charité Campus Mitte
2019
Internship abroad in traumatology and orthopaedics at the Korle Bu Teaching Hospital in Accra, Ghana
Shams was born in Stuttgart and grew up in Munich. His parents, his mother a pharmacist and his father an engineer, fled the war and revolution in Iran. Shams is painfully aware that a whole series of different doors are open to him than to his parents back then. He is glad that he is faring well financially, thanks in part to the German "Deutschlandstipendium" scholarship that he receives, and that he can focus on his studies.
"What makes me different from my best friend is my migration background."
He is very open about it. His special background and the culture in which he grew up is what really defines him, he says. He speaks fluent Persian and his roots become very noticeable when he starts cooking, which he does much more often now during the pandemic than he did in the past. If the pandemic had not intervened, he would now - alongside his studies -­ be looking after a refugee child from Iran, Afghanistan or Syria brokered through an aid organization based in Berlin. One's own migration background helps to better understand the problems and challenges of those affected.
When asked about his own future, Shams can well imagine going abroad again. Maybe he'll be drawn to the University of Hong Kong to study for a PhD. In any case, he would very much like to work in a larger clinic later on.
Finally, let us allow our imagination to run wild a little. When asked which three people he would like to meet for a fictional dinner, Shams replies:
"I would like to speak to the first democratically elected President of the Middle East, Mohammad Mossadegh †. Plus Michelle Obama and, because I'm a big football fan, Thierry Henry."
December 2020 / Marie Hoffmann