back to the overview
From Syria to studying medicine at Charité
Sara Abou Raslan is currently in the eighth semester of her degree in medicine at Charité – Universitätsmedizin Berlin. Stiftung Charité has supported her studies by means of a Deutschlandstipendium. After almost an entire year of living and studying during the COVID-19 pandemic, we spoke with Sara Abou Raslan in a virtual interview. She talked to us about studying during the pandemic, her extracurricular activities and experience as a Syrian who arrived in Germany 5 years ago.
Since I was 17, I've dreamed of becoming a neurologist and going into research. I would say I'm on a good trajectory. I have enjoyed my medical studies from day one. Needless to say, the pandemic has changed things a lot for us students. We're now in our second semester since the pandemic started. Many students found it really difficult to completely change the way they organize their studies, particularly because they were often left to their own devices. There was a lack of direct contact with both professors and patients. The practical elements of our studies are key motivational factors. They not only give us the opportunity to apply our theoretical knowledge, but also to memorize it better.
The pandemic presented a major hurdle in this context. Beforehand, personal contact was a given. I barely thought about it. Now that personal interactions no longer occur in many situations, be it with professors, classmates or friends, I've started to realize just how important they really are. The pandemic also surprised me from a medical perspective. I believed research would have put us in a position to manage the virus far quicker than we did in reality. After all, we've come so far.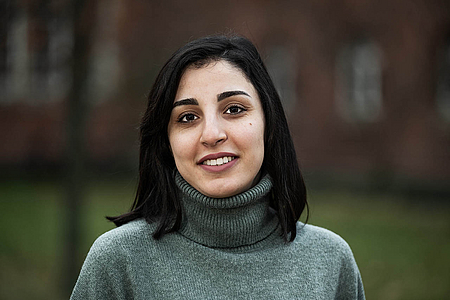 Funding Program
Deutschlandstipendium
Funding period
Since 2018
Research area
Human medicine
Institution
Charité – Universitätsmedizin Berlin
Since 2017
Medical studies at Charité – Universitätsmedizin Berlin
I would never have imagined that this kind of virus could pose the difficulties we've faced. Despite all of the possibilities at our disposal nowadays, research still has not succeeded in completely understanding and combating the virus. The virus has shown us our limits.
However, despite the restrictions I've faced in my studies and everyday life, I've continued to try helping others during my free time. There is a large Arabic community in Berlin and many people need help. I arrived in Germany from Syria 5 years ago, so I am well aware of the issues they face from my own experience. I help by acting as an interpreter, accompanying them to appointments with the authorities or helping them fill out forms.
At the SOS family center, I help Arabic-speaking children with their homework and offer tutoring. In doing so, I realized that a large number of the great support initiatives available in Germany fail to reach their intended audience as they are simply unaware that they exist. That's why I've worked with my friends to launch a project that provides information in Arabic on the numerous support initiatives available in Berlin and brings those in need of aid in contact with interpreters and other volunteers, for instance.
I understand the issues faced by these people only too well. Back when I came to Germany, I found everything extremely challenging. From the culture to the language—I had to learn everything from scratch. I was extremely happy to be offered a place to study at Charité after just one and a half years in Germany. The level of language proficiency required at university and for my medical studies is completely different to what I had learned in my German lessons. I needed to significantly improve my German, which I'm still working on. However, over time things have been getting easier. I now enjoy all of the opportunities, freedom and multicultural life in Berlin. I hope to empower other young women with my story.
December 2020 / Marie Hoffmann